A daily dose of wellness, personalised to your dog
Help your bestie thrive with a personalised blend of superfoods, supplements and botanicals
Request early access
Damn right.
Dogs need supplements too.
Two-thirds of British adults take supplements.
So why aren't we treating our four-legged family members with the same TLC?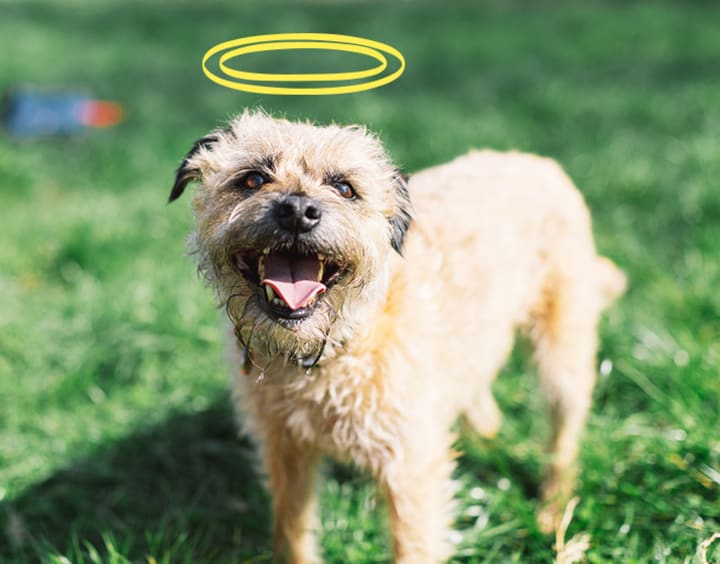 What is Front Of The Pack?
Put simply, we make tasty, personalised blends that provide targeted health support right where your dog needs it most.
Every dog needs unique support
Our blends support these areas
Dental

Digestion

Calming

Joints

Skin & Coat

Allergies

Heart Health

Protect & Repair

Senior Support
Visible results in under 6 weeks
This is Barney

He's been fart free for 2 months.

"At last! His poos are firm and his flatulance haunts us no more."

- Barney's Dad

Say hello to Teddy

The Fox Terrier who conquered his anxiety.

"Six weeks on he no longer frets when I leave for work."

- Teddy's Mum
Skeptical? Us too.
That's why we promise to be upfront about what's inside our products and how they work.
---
Upfront on ingredients
Organic • All natural • Ethically sourced
Krill Oil

Papaya

Chondroitin

Green Tea Extract
---
Upfront on science
Expertly formulated • Safety tested • Transparent on research
Vet Surgeon

Dr. Stephanie Wenban BVSc, MRCVS

Steph sniffs out everything she needs to know about your dog and brews up a blend that's just right for them

Vet

Dr. Andrew Bucher BVSc, BSC, MRCVS

Andrew scours the globe for ingredients that meet our obsessively high standards

Vet Nurse

Nicole Dinsdale

Nicole's always on hand to field any questions or concerns you may have. Get in touch anytime!
Why you and your dog will love Front Of The Pack
Simple one-a-day sachet
Delicious taste dogs love
Eco-friendly monthly refill packs
Request early access
How it works
Take our quick quiz

Tell our experts about your dog and where they need a leg up

Discover your dog's blend

A tasty blend of botanicals, superfoods and supplements, personalized to your dog

From £20/month

Receive monthly top-ups

Your dog's 30-day supply of sachets will be delivered to your door every month